Baby back ribs on the grill are a specialty of summer–and something every rib lover wants to have on their table when they get a chance. My version takes a nod from the way my mom used to tenderize them and makes grilling a snap–get all the finger licking secrets here.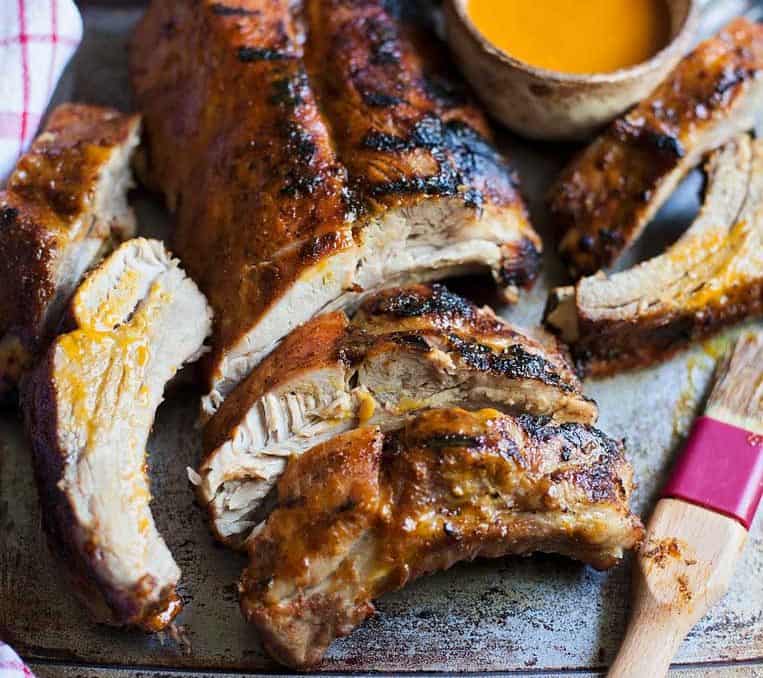 There's nothing like the smell of baby back ribs on the grill. Well really, I like just about anything on the grill or over a campfire. It just tastes better than if you did it inside.
But grilling can feel intimidating if you aren't sure how to tackle these classics–if you've been more of a burger and hot dogs sort of person but want to move up to baby back ribs on the grill, I think you'll be amazed how easy it really is.
Tips for tender, juicy baby back ribs on the grill
1. First, remember that you need to
get the connective tissue off the back of the ribs.
I know, I know. Gross.
But very necessary to make sure the ribs are tender and easy to eat. To remove the tissue, start on one end and wiggle a knife up under it–you'll see it because it's sort of cloudy white and tough.
Get part of it lifted and loose then use a paper towel to grab it and pull to the other side. Most of it should come off in one tug. If it breaks, just pick up where you left off and get what you can.
2. Next, we are
going to boil these babies.
Don't die. I get it–the fact that someone out there is screaming at me right now because I haven't done a 12 hour dry rub and 16 hours over a smoker.
Get real people. This is life.
We want these to be tender, right? Well this is how we did it growing up and it works. We add the ribs to pot of flavorful simmering water with bay leaves, garlic, salt and onion powder where they will bubble away for an hour (or more if you have time) until they are tender and ready for the grill.
Note: You can boil your meat, let them cool down then wrap them and put them in the fridge until you're ready to put your baby back ribs on the grill.
3. Finally, we
brush the warm meat with any bbq sauce you like
(I used Carolina Gold) and grill them just until crusty on the outside and hot all the way through.That's one of the glories of this version in that you don't have to worry about if they are cooked through on the grill. It has already been done in the pot.
I did use a dry rub on my ribs after they simmered and then put on my sauce. My favorite is Bub's Rub