"
Barbie
" is Australian slang for barbecue and the phrase "slip a
shrimp on the barbie
", for Americans, often evokes images of a fun social gathering under the sun. Australians, however, invariably use the word prawn rather than
shrimp
.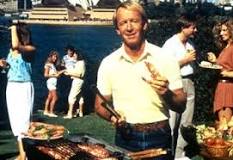 On the pantheon of Australian expressions, "shrimp on the barbie" is right up there with "g'day, mate" and "a dingo's got my baby" as the most well known. But these four simple words make many Australians cringe!
Ingredients
INGREDIENTS
2 tablespoons olive oil
1⁄2 cup white wine
2 tablespoons lemon juice
1 teaspoon sea salt
1 teaspoon fresh ground pepper
1 teaspoon cayenne pepper
2 garlic cloves, minced or 1 teaspoon garlic powder
1 1⁄2lbs large shrimp, peeled, deveined, leaving tails on (you can leave the peels on the shrimp and cut down the back and devein if you prefer)
2 tablespoons parsley, chopped
lemon wedge, to garnish
DIRECTIONS
Mix olive oil, wine, lemon juice, salt, pepper, cayenne and garlic in a bowl. Add shrimp and toss to coat. Marinate in the fridge for an hour, two hours at the most. If you leave it longer, the lemon juice will start to "cook" the shrimp.
Heat barbeque to medium heat. Cook shrimp until just cooked through, about 3 minutes on each side.
Sprinkle shrimp with parsly and garnish with lemon wedges.
Video
Before there was the Hoff and Baywatch ....